Maestra Productions has partnered with T Muse Media to produce an educational documentary on how the Freedmen's Bureau Schools established after the Emancipation of slavery were implemented in a divided nation, following the Civil War. We will explore what happened in Prince George's County, Maryland and the region, birthplace of both Harriet Tubman and Frederick Douglass.
Tentatively titled "Reconstructing Education" this documentary will take viewers on a journey from underground education during enslavement through the period of Reconstruction in Maryland. This journey spotlights the ongoing efforts and recurring issues regarding Black-led education in Maryland and the United States.
Planned for completion late 2024
TEAM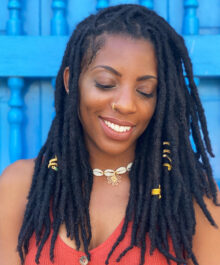 Producer
Talaya Grimes
Talaya Grimes has worked on productions for Discovery Channel, National Geographic, PBS, and Smithsonian Networks in a variety of production roles from Production Coordinator, Associate Producer, and Operations Manager. She has also worked with independent filmmakers and playwrights. She was a Producer for the documentary "Congressman Robert Smalls: A Patriot's Journey from Slavery to Capitol Hill" for Doubleback Productions. She produced the short film "N.O.S." on mental illness, available on Amazon, and the play "The Stuck" that was featured in the 2019 DC Capital Fringe Festival, both for Third Person Omniscient Productions.
She is a consulting Senior Producer for documentaries on literacy movements for The Literacy Project including a documentary on the Freedom Schools of 1960 Civil Rights Movement entitled "Teach."
Cinematographer
Alicia Rodriguez
As a second-generation Boricua to Nuyorican parents, Rodriguez's experiences with diaspora and the erasure of narratives contextualizes her approach to storytelling. The role of filmmaking as a tool to reclaim community power in liberation movements motivates Rodriguez's work. In 2020, Rodriguez graduated from George Mason University, double majoring with a BA in Film and Video Studies with a concentration in Directing and Producing and a BA in Integrative Studies with a concentration in Social Justice and Human Rights.
Currently, her work is centered on cinematography and short-form documentary directing, while also doing some doc editing. Since the pandemic, Rodriguez has continued documenting the work of the DC Mutual Aid Apothecary alongside Skye Simone, and is DPing the feature-length documentary "The Young Won't Forget" which centers the experiences of the diasporic and multi-ethnic Palestinian cousins and co-directors Miranda Mlilo, Paula Sayhoun, and Chloë Sayhoun. Outside of filmmaking, Rodriguez also spends a lot of her time studying and practicing herablism / plant medicine, and sees this as an extension of both storytelling and reclamation in a way similar to her filmmaking practice.
Cinematographer / Editor
Amberly Alene Ellis-Rodríguez
Amberly Alene Ellis-Rodríguez is a documentary filmmaker, photographer, writer, educator and activist born in Baltimore, living in Havana, Cuba. Her work examines her ancestry and family migration within the Caribbean, West Africa and The Americas, issues of  Blackness, identity, ancestral healing practices, womxn's rights, health, land rights, environmental policy, and social justice within Latin America and the Caribbean. She is a graduate of University of Maryland's School of Communications and holds an MFA in Film from American University.
She was the recipient of a 2014 Tinker Grant to research cinema and social policy in Cuba at ICAIC, the Cuban Institute of Cinematographic Art and Industry. In 2014 she directed Bullets Without Names, a documentary centered on gun violence, recovery and post traumatic stress disorder among black masculine identifying survivors gunshot trauma. The film was nominated for Best Documentary at the American Vision's Awards. In 2016 she was awarded a Ruby Artist Grant from the Baltimore Cultural Alliance. Her 2017 her poem "Black" dedicated to Afro Colombian activist (now Colombian Vice President) Francia Elena Márquez Mina has screened internationally and was featured at the National Gallery of Art in Washington DC.
Her documentary, Hermanas en Ruedas (Sisters on Wheels) premiered in Havana, Cuba on January of 2017. Hermanas in Ruedas follows the stories of young women in the underground skateboard culture in Havana. The film won 'Most Inspirational' at the 2017 Fist Up TV Festival in Oakland, CA. Her photo series 'Havana in Squares' premiered on exhibition at the Motorhouse Gallery in Baltimore in fall of 2018. In summer of 2018, she curated her first installation, "Eyes, Voice, Memory", a youth digital storytelling project that premiered at the Light Box in Miami, FL.
In 2018 she became a co-founder of ReglaSOUL, a community initiative to provide sustainable food resources, plant medicine and healing practice resources to improve the health and well-being of the Afro descendant population in the borough of Regla in Havana, Cuba. In 2019 she worked in collaboration with several award winning Afro Cuban Havana based artists to direct a series of music videos, two of which include "Derrechos de Admisión" and "El Corazón de Ñame" to raise awareness around issues of race, social inequity and gender violence. The films exhibited in 2022 at the Patricia and Phillip Frost Art Museum at Florida International University.
In 2021, her documentary photography work in the community of Regla was selected for exhibition at The Clemente Soto Vélez Cultural & Educational Center in New York. In 2022 was selected by the Caribbean Cultural Center African Diaspora  Institute (CCADI) Digital Evolution Artist Retention Fellow. She is currently writing and editing a film about the Freedom Schools the Civil Rights Movements, produced by the Literacy Project and Maestra Productions.
Editor
Emmett Williams
After a decade in television as an award-winning producer, writer and multimedia artist, Emmett Williams started Mission Man Media, a company that has produced dozens of inspiring and educational documentaries, web series, and short films around the world, telling the story of grieving mothers who have lost their sons in Brazil, a web series about climate change in Africa, portrayed threatened fishing communities in Alaska, documented illegal logging in the Amazon, created a Black Lives Matter web series, been part of large scale art performances in Europe and filmed protests from Standing Rock to Washington, DC. More info here: www.missionmanmedia.com
Emmet is an editor on "They Say I'm Your Teacher"
Director/Producer: Talaya Grimes
Cinematographers: Alicia Rodriguez, Amberly Ellis
Additional camera: Emmett Williams,
Sound: Jake Staley
Editor: Mara Wollong
Research: Kenyatta Abeny, Rachel Torgoff